Las Vegas Trip
April 24-27, 2004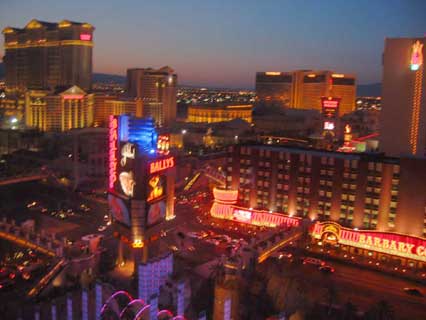 Night-time view of the strip from our hotel room

For the last few years (this is the fourth), we have taken a Spring trip to Las Vegas with a group of our good friends. The 2003 trip took place just a couple weeks after we found out that Ilene was pregnant with Andrew, meaning that our friends were among the first to know about our exciting news! We also spent quite a bit of time during that trip looking at what Vegas had to offer for parents travelling with small children, although we definitely were very uncertain about whether or not we would be going on the 2004 trip.

By Spring of this year, we had already taken one trip to Arizona to visit Andy's maternal grandparents and were feeling brave enough to try taking him along on the Vegas trip. While it certainly made for a different experience, we still were able to have a good time and we definitely enjoyed taking what is likely to be one of the first of many family vacations.

For the second and third nights, we stayed at Bally's. Due to limited availability at Bally's and high rates at many of the other major hotels on the Strip, our first night was spent at the Best Western Marti Gras, a nice and clean value-priced motel where we had stayed during some of our previous trips.

With Andy along, we were looking for more family-friendly activities during this trip. Some of the animal exhibits offered at a couple of the hotels seemed like ideal choices to fulfill this need. Visits to Siegfried & Roy's Secret Garden and Dolphin Habitat at the Mirage Hotel and the Flamingo Hotel's Wildlife Habitat filled the better part of one of our day.


Return to Bigbeaks.com Home Page

Email Us