Andy's First Trip to Las Vegas!
April 2004
Click on any image for a larger version

The following photos are of Andy meeting a dolphin for the first time at Siegfried and Roy's Dolphin Habitat at the Mirage Hotel. The lighting in the under-water viewing area made it pretty much impossible to take a picture that wasn't excessively blue...
Here are a few general photos of Andy from our visit to the Siegfried and Roy animal exhibits: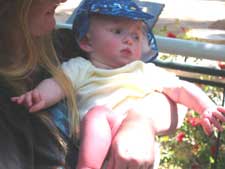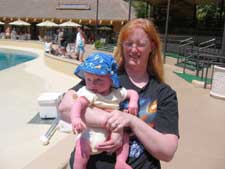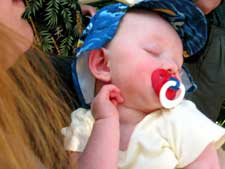 Here are several pictures of Andy sound asleep in front of various exotic animals at Siegfried and Roy's Secret Garden: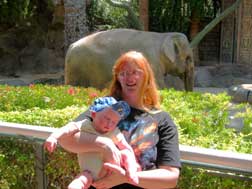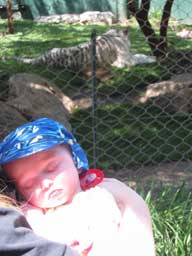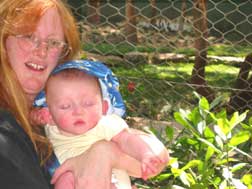 Here are several photos of Andy at the Flamingo Hotel's Animal Habitat. This visit was Andy's first chance to see some real, live flamingos and penguins, his parents' favorite birds. Thanks to our good friend Matt for helping us to obtain some family photos!

When we arrived home from the trip, the San Fernando Valley was having record heat. Since we had turned off the air-conditioning in our house during the trip, it was incredibly hot inside our house when we arrived at home. In order to cool Andy down, we stripped him down to his diaper and cloth soaked in cold water on his forehead. The following photo may be useful for future blackmail purposes...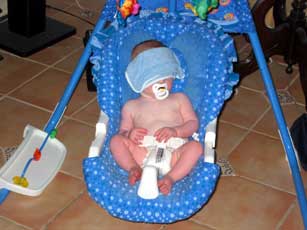 Return to index page
Return to Bigbeaks.com Home Page

Email Us